Updated April 02, 2009
Current Patchwork Cuties...

Click on the links below to see the current pups!

Available Older Pups/Young Adults
Take a look at my nice youngsters who are looking for excellent forever pet homes!

Born 6-24-08 ~ CH. Patchwork's Chariot Of Fire X Patchwork's Delilah

Born 7-8-08 ~ Patchwork's Wild Card Joker X Ch Wilshy's Honey Bee Of Patchwork
6 Beautiful babies-

Availability of puppies for sale may change daily. Please check with Linda for updates.
---
I would like to ask you to fill out my application ***if you are interested in obtaining a dog or puppy from me.
***The application link is not working correctly at this time. Please send me an e-mail to request that I send you the Word copy to fill out. I am sorry for the inconvenience and hope to have it working again soon!

About Patchwork Pups...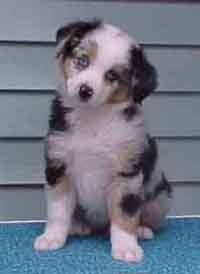 All of my litters are planned with an eye to producing pups to fit the high standards of excellence as described in the NAMASCUSA breed standard. Though I enjoy showing my dogs, a most important part of my breeding program involves producing highly intelligent, easily trainable, beautiful companions to become members of loving families. Patchwork puppies are well known for having exceptional temperaments.
My puppies are family raised in the house, in the midst of activity, as well as spending lots of time outside kissing the neighborhood kids and chasing grasshoppers on our 20 acre farm. Their parents have had their eyes cleared by a certified ophthalmologist, and the pups will also be cleared before they go home. The parent's hips have also been x-rayed and rated by the OFA and there are guarantees to cover the pups as well. By 8 weeks, they will have had the first 2 of a recommended series of 4 puppy shots and several wormings as needed. They will also have a thorough vet exam at 8 weeks just before they are ready to go to their new homes. If all is well, they may be picked up at 8 weeks, or I can arrange safe, experienced airline shipping at 9 to 10 weeks of age. I can ship anywhere in the US, Canada, Mexico and with special arrangement, to Germany.
Though I do all that is in my power to produce very sound, healthy pups, I have very generous health guarantees which are spelled out in my Puppy Contract in the event that a pup does develop a problem that needs to be taken care of. I also guarantee all of my puppies' temperaments for life, but do expect that every puppy's new owner will take the time and necessary steps to properly socialize and expose the pup to various situations as to develop a sound temperament. The first two years are especially important. Bringing up a pup properly is very similar to bringing up a child. It takes time, patience, love and training to bring up both! If you do not have time to devote to this but still want a dog as a family member, you may wish to consider an older trained dog or a dog from a rescue situation. I will provide you with helpful information and suggestions for proper puppy rearing and am always available to help via phone or e-mail
My puppies are registered through the parent club, the North American Miniature Australian Shepherd Club of the USA (NAMASCUSA, formerly known as NASCUSA) and most of them can also be registered with MASCA and the National Stock Dog Registry. When you purchase a pup from us, you will receive a 5-generation pedigree, as well as pictures of the parents. You will also receive a health record which includes future date recommendations for completion of puppy shot series as well as any copies of exams performed on your pup. I have compiled a very helpful "puppy packet" which has lots of ideas for new puppy owners to help you get off to a great start. You will also have our help and support as you grow with your pup. Many of my dogs are now 5+ generations of mini on each side. I do have dogs of all sizes, within the range of 14" to 18" tall with some very high quality smaller dogs with good bone. I do invest a lot of time and loving care in each and every pup, so naturally, I try to be very careful when placing them into families, as it is my goal that they become well-loved family members for their 12 to 15 year anticipated life span.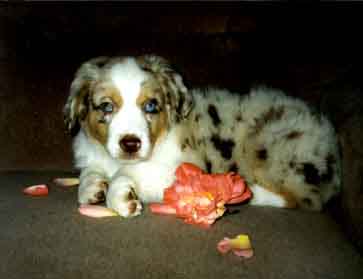 To obtain some information regarding the puppies, or if you are interested in acquiring one, please email us at: Inquiries@patchworkfarms.com

How is the price or quality of a puppy determined?
At Patchwork Farms, our goal in breeding is to produce puppies which are true to the breed standard. A lot of thought goes into planning each particular cross to make sure that the parents compliment each other and produce even better pups than they are. We find that in each litter, no matter how perfect the parents are, there may be the following three types of pups and we price the pups according to this criteria:

Show quality- This is a pick puppy which exhibits the qualities looked for in a conformation show dog. These would include excellent pedigree, proper structure and movement and free of disqualifying faults as described in the NAMASCUSA breed standard. This puppy is sold as having the potential to be shown and titled in the conformation ring.

Breed Quality- This is a pup which has the potential to develop into a dog of sufficient merit that, though it may or may not title, it will have no genetic faults or shortcomings that should prevent it from being considered as a dog to be bred to a like or better dog.

Pet Quality- These pups are sold only as pups to be spayed or neutered. This pup may or may not have a disqualifying fault or other shortcomings that would prevent its being considered for showing and/or breeding. If there is a fault, it will not prevent the puppy from living an otherwise normal and healthy life.
---
Most of my puppies are sold on a spay/neuter contract.

It is MOST important to me that they go to PERMANENT loving homes where they will receive good food as well as any necessary veterinary care and of course, lots of LOVE . I have no problem selling my most beautiful puppies to pet homes but all will be REQUIRED to spay or neuter unless the pup was purchased as a breeding or show prospect. The papers on all pups sold as pets will be marked "This dog is not to be used for breeding and if bred, the resultant pups will not be registerable." I am very firm on this policy as I believe that breeders carry a great deal of responsibility for the development of this relatively new breed and most people are not aware of the amount of time and handling it takes to produce quality pups with sound temperaments. Now, all this firmly said, because I take breeding very seriously, all of my puppies, including my pet quality puppies, are fully guaranteed as far as any health or temperament problems and I take lifetime responsibility for any puppies I produce. I do NOT want any of my puppies to ever end up in a pound or rescue situation.

If the pup is purchased to be a breeding prospect, the buyer will be asked to sign an agreement specifying the following criteria:
The puppy will not be bred before 2 years old if female, or 18 months old if male, and then, only after the eyes are cleared and hip x-rays are submitted for OFA evaluation. The hips must pass OFA with a fair to excellent rating in order to register the litter with NAMASCUSA. I would prefer to see a good or excellent evaluation rating.

It is highly advisable that a breeding prospect should excel in some area of competition so the purchaser would be asked to show their puppy in conformation, herding, agility, obedience or in any other way earn a title of some merit. I realize that in some areas it is more difficult to do so and would accept a good quality video of the mature dog sent to me so I could examine how the pup has developed and determine whether or not it would contribute well to the breed.

The purchaser would read, agree to and sign the NAMASCUSA Breeder's Code Of Ethics and breed only to dogs which have been selectively screened as in items 1 and 2 above and only to bitches owned by breeders who will agree to #5 below.

The puppy would be held in an ownership status by Linda Perry with buyer as a co-owner until the above criteria is met at which time, I would sign off my ownership and the dog would belong to the purchaser as the sole owner. If there are any puppies back, litter back or stud rights agreements involved in the purchase, I would expect those to be honored before signing off on the permanent papers of the dog. I would remain available to offer any advice or answer any questions to help new breeder get started.

Any future pups whelped by or sired by this puppy will be sold with the same requirements to future buyers as those detailed in this Supplemental Agreement. And, further, this puppy's buyer agrees to guarantee health and temperament on any puppy produced as well as assuming lifetime responsibility for any puppy produced by this puppy's buyer in the same manner as has been outlined in the New Puppy Contract including this Supplement which has been agreed to by this puppy's buyer and Patchwork Farms.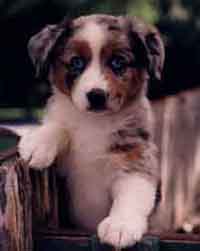 Hey! Wait! Don't Go! Where's my bone???